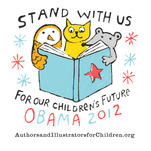 Dear Julie,
I was just interviewed by
NPR
's Peter Overby for their weekday evening news program
All Things Considered
. It will air Wednesday, October 24th and can be found online thereafter. I gave him the phone numbers of a few or our members and hope he interviews them, too. We'll see! (Find your local NPR station
here
.)
Thanks to all who have sent out our press release! Here's what I talked about, in case it helps when you get the call:
I told him that we are 400+ (actually, as of today we are 444) of our nation's children's authors and illustrators who are passionate enough about our children's future to risk our professional reputations and come out in support of President Obama.
I told him that our tagline, Stand With Us for Our Children's Future, reflects our values--how important it is that our next president has the best interests of children
at his core.
I told him that we are supporting the re-election of Obama because he is supports education.
I forgot to mention other programs which he's supported that directly affect children:
health care, Pell Grants, the Children's Health Insurance Program...and the fact that he advocated for and signed into law the Healthy, Hunger-Free Kids Act of 2010 -- the most significant investment in the National School Lunch program in more than 30 years. Also, this
SLJ article
says he's kept library funding at its current level.
I told my good friend Peter that our members are also working for local candidates so that when Obama is re-elected, he'll be able to pass legislation that helps our kids.
I told him that we wanted to hire a helicopter to toss 800 stuffed walruses wearing Authors and Illustrators t-shirts onto the grounds of the Hans Christian Andersen Storytelling Center in NYC, but we'll have to wait and do that in our next campaign.
I told him that we've run TV ads in Florida and have banner ads on Publishers Weekly, the Children's Literature Network and more. Authors and illustrators have blogged about us and have included our link in their signatures. I forgot to mention our FaceBook page.
You know the stakes in this election. If you haven't yet sent out our press release, please do. Now.
It isn't enough to talk about peace. One must believe in it.
And it isn't enough to believe in it. One must work at it. ~ Eleanor Roosevelt
Thanks for all you do in these last days before the election.
April Halprin Wayland and the AIC team
Stand with us for our children's future—Obama 2012